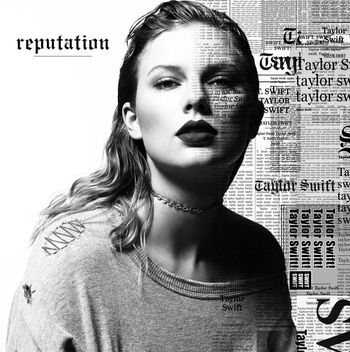 "Sorry, the old Taylor can't come to the phone right now. Why? 'Cause she's dead'."

If Taylor Swift has anything to do with it, all our preconceived ideas about her brand and music are dead. It's nearly worth saying funeral rites to her last five albums and every headline boasting her name since her rise to fame in 2006.

Her latest album Reputation is the resurrection of her new identity. In fact, in her video for Look What You Made Me Do, we see her rising from the ground like a zombie. And while the word "resurrection" feels distasteful and overly-dramatic, that is exactly the way the 28-year-old has decided to depict her new narrative.

This gives her the leeway to be completely experimental with Reputation – both in lyrics and music, shrugging off the innocent, naïve image she carried for so long.

For hardcore Swifties (aka devoted Taylor Swift fans), the good news is that she doesn't evade her old identity completely on this new album.

Like 1989, the album is pop perfection, and it is rife with pop hooks, sassy lyrics and lyrics pulled straight from the pages of the pop star's journal. The whimsy of Gorgeous, the spite in This is Why We Can't Have Nice Things and the sanctity of New Year's Dayall bear resemblance to her past.

However, in every track we see a darker, edgier Swift, that's not quite as appropriate for the teen audience she has garnered over the years. Electro and synth tones dominate most tracks, escalating her tales of love gained and lost.

Perhaps what is most different about this album is Taylor's acceptance of her reputation. Instead of pushing past public backlash about her love life, integrity and values, she wears them like a mantle over her shoulders and becomes what everyone has always portrayed her to be: A femme fatale. A heartbreaker. A villain.

And whether or not this is actually her real identity, in doing so, she takes control of the hurricane of turmoil surrounding her since her career began, illegitimating her critics and owning the darkness and the light within her.

The sultry tones of I Did Something Bad are a celebration of being a villain and Don't Blame Me is a dangerous serenade to her lover whom she compares to a drug. Yet in Getaway Car, we see her express remorse for becoming the heartbreaker she has so long vilified in her own music, as she apologises for her past actions.

The harshness of her new identity is juxtaposed by the vulnerability of a new Taylor. Delicate is an honest recollection about her struggle to find true acceptance in a life where she is followed by the paparazzi, and Call It What You Want is a mature declaration of love where she solidifies her identity as a whole individual with or without the presence of someone beside her.

The Taylor of old steered clear of sexual promiscuity, but in Reputation we are met with sexual overtones head on. So It Goes and Dress are literally about an intimate relationship with her partner, and Gorgeous shows her contemplating cheating — something she once adamantly fought against.

From the perspective of a music lover, Reputation is a great album. It is multifaceted and shows greater maturity than Swift's past releases. Given time, her new, synth-laden style grows on you, and you appreciate her self-awareness as she recollects past mistakes and looks to the future.

As a Christian, my response to the most highly anticipated album of 2017 is a bit more complex.

The positives are there; which include the growth and renewal of a young woman who once sought her identity in the eyes of others. We see shadows of the sanctification that happens in us once we know Christ and a few moments of repentance.

On the other hand, the new Taylor Swift is the antithesis of the perfect Christian role model she once was.

The sexuality present in this album can't be overlooked, and neither can the revenge-fuelled rhetoric that laden so many songs. It is clear Taylor hasn't gotten over her feuds with past lovers and other celebrities (just one listen to This is Why We Can't Have Nice Things and how it rips off Kanye West will clarify this).

There is strength in her ability to take control of abusive and unhealthy relationships, but her commitment to continually slander people instead of exercising forgiveness means she is fuelling the same Hollywood machine that has caused her so much pain in the past.

If you were to take a microscope to her songs, you would see this rhetoric go deeper, and Taylor walks a fine line between victim and villain. The paradox in most songs is that Taylor hasn't figured out which one she is yet, which is why though enjoyable, this album doesn't showcase a healthy, well-rounded person. Rather, it reveals a hurting, vengeful person who is working towards a new future – but is not quite there yet.

If you're looking for a Christian role model for your teenager, Taylor Swift isn't it.

Her music highlights the dark and light in all of us, but don't listen without considering the meaning of the lyrics first. They show the becoming of someone, not the narrow path we are called to walk as Children of God.