With its ties to eastern cultures and religions yoga has for long been taboo for Christians. But thanks to the burgeoning mindfulness movement (which is essentially trying to be 'in the moment', and characterised by the rising popularity of adult colouring books and the like), this is starting to change.

Make no mistake, this new-found yoga is not your regular wellness exercise. It's called Holy Yoga and there are people across the world who credit it with deepening their faith in Jesus.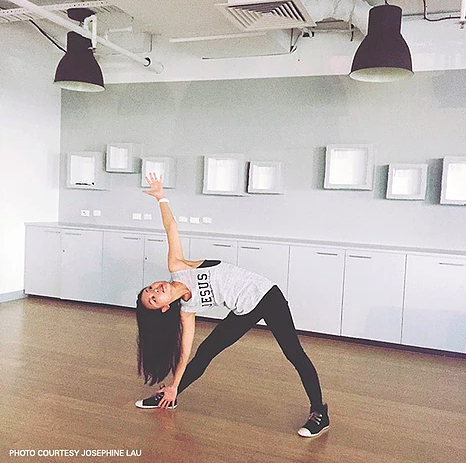 "If we're giving glory to God, I truly believe that God has redeemed Holy Yoga for us to use to love our bodies and meditate with him."

Josephine Lau is one of Australia's first accredited Holy Yoga instructors who teaches in Sydney. Turning to yoga a decade ago for its physical and emotional benefits, she sought a way to continue the practice in a way that matched the teachings of Jesus.

'I had a lot of people question about whether Christians should be doing yoga, so I went online and did some research,' she tells Warcry.

'I found this ministry (Holy Yoga Ministries) in the US which was founded by a group of Christian women ministry leaders who put together a training course to allow Christians to incorporate yoga into their faith and bring their relationship closer to God.'

Holy Yoga, through which Jo was trained, combines the physical benefits of exercises (also known as asanas), such as the triangle, the tree pose or the downward-facing dog, for instance, with meditating on biblical teachings.

'We really respect and honour the fact that yoga in its purest form is three things: breath work techniques, physical postures and meditation,' explains Jo.

'As Christians…the meditation component is completely focused on being mindful of God's teachings and using that time to connect with Christ. It's less about our self and more about Christ and building relationship [with him].'

Father Joe Pereira, a diocesan priest from the Archdiocese of Bombay, India, has been doing yoga since 1968.

Opening his NGO, the Kripa Foundation, in 1981 under the guidance of Mother Teresa, he teaches yoga as a tool to overcome substance abuse and helps HIV and Aids patients. In an interview with Yoga Teacher Magazine, he calls Jesus the 'Supreme Yogi'.

'There is no conflict in explaining the spirituality of the body especially with the acceptance of the Western behavioural medicine and mind body clinics, ' he says. 'I read the saying of Jesus as that of a Supreme Yogi, who for example could say, "The Father and I are one." That is what Yog means.

'The kind of yoga that we use for health and wellbeing and for wholeness and holiness is a combination of science and faith. It is definitely a spirituality, but a blend of the body, mind and soul.'

Walk into a Holy Yoga class and it will appear the same as your regular yoga session. The poses are the same, the breathing techniques mirror traditional methods and instructors will often use the English names for each move. However, the mindfulness aspect is different, and this is noticeable to Christians and regular yoga devotees alike.

'I find that when people step into one of the Holy Yoga classes, whether people are Christians or not, they walk out of the classroom very at peace,' says Jo.

Holy Yoga is not a substitute for attending church, reading the Bible or any other religious practice, but many people have found that it helps them to be more intentional with their faith.

'I found yoga has really changed me in the sense that I've been able to dedicate time [to God],' shares Jo. 'A lot of people, especially Christians, say "Oh, how do we find time'? The minute I step out of church I just can't squeeze the time."

'Being able to incorporate the meditation component of yoga is really helpful because there's that carving out of the time,' she says. 'Yoga…is where I can intentionally bring myself closer to God by listening to him in meditation and prayer. So I think from the spiritual aspect, yoga is more favourable than just doing cross fit or spin class.'

While eastern meditation is essentially about emptying the mind, Christian meditation 'aims to fill the mind with thoughts related to biblical passages or Christian devotions', says Donald S. Whitney in Spiritual Disciplines for the Christian Life.

Meditation is also referred to in the Bible numerous times. Jesus took himself to the mountains to pray, the Psalms refer to it numerous times, and Saint Paul encourages us to intentionally focus on 'whatever is pure' (Philippians chapter 4, verse 8).

Our rushed lifestyles can make this difficult to implement every day, and Jo believes this is due to a mindset in society.

'I think modern culture has somewhat encouraged or influenced us to be forthright with our words, but we should be always responding,' Jo says. 'What about listening to what God has to say? If we're just constantly talking, how can we listen to him?'

By taking the time to practise yoga every day, people are returning to the biblical principle of listening to God's voice and hearing his direction.

'I've felt God saying things I didn't even expect him to say to me,' shares Jo. 'If we're giving glory to God, I truly believe that God has redeemed Holy Yoga for us to use to love our bodies and meditate with him.'

Aside from the spiritual and physical benefits of Holy Yoga, its practice is also useful for people struggling with mental illness. Josephine sees this in her work with yoga therapy.

'The slowing down of the breath can help people who suffer from anxiety and depression to face their fear, and even if we look at psychology, they use a lot of their breathing exercises to help anxiety patients. So really what we're doing in yoga…really ties in with modern western science.'

With a lifestyle that makes it difficult to care for our mind, body and spiritual wellbeing, Christian Yoga may just be the solution people are looking for to reconnect with God. As practised by Jo, the discipline can certainly provide a 'bridge' into Christianity.

'I feel Holy Yoga is my calling,' shares Jo. 'Yoga is exploding. It's a platform to bring people closer to God… Try it and see for yourself.