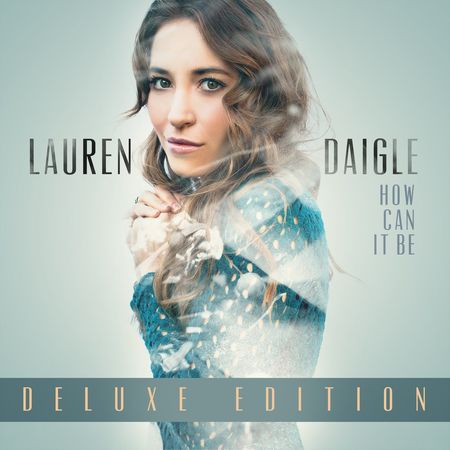 It's difficult to distinguish between the various worship artists releasing solo albums in recent years, so when one stands out you sit up and listen. Nashville-based worship leader Lauren Daigle is that kind of different. And once you press play on her award-winning album How Can it Be you'll understand why.

Her dusty, bluesy vocals permeate the soul; her songs are both corporate and individually appropriate, and then there's that extra X-factor. Some may call it star power, but once you see Lauren perform live you know what it is: the Holy Spirit. And that's what sets Daigle's debut apart for her well-established peers.

Not only are her songs beautiful, but they are infused with a deep knowing of God that translates into your own worship experience and changes it for the better.

After listening to How Can It Be numerous times (it's that kind of album), it's hard to fault. Each song is smartly crafted, the musical effortlessly mirroring the theme of the lyrics, and driven home by Lauren's power-house voice.

First is a standout track, introducing us to Daigle's fearless vocals and equally as brave declaration that she will put God first, no matter what the cost. Lead single How Can It Be is a wonderful display of Lauren grappling with God's mercy and grace, which will inspire awe and a new appreciation for Christ's sacrifice on the cross.

There are highs and lows to the deluxe edition of How Can It Be. The victory of earlier tracks is matched by the sanctity and quietness of tracks like My Revival, Power to Redeem (A duet with duo All Sons & Daughters) and Salt & Light.

Electronic beats are all the rage at the moment, and Lauren does include these tones in her songs. However, instead of dominating the music like Hillsong Young & Free or even Brooke Fraser's Psychosocial, these tones are used to compliment traditional instruments, and Lauren isn't afraid to strip everything back or use an orchestra to reinforce the message of a song.

Overall, there is a sense that the most powerful force on the album is Lauren's delivery of the lyrics. And given these are bold cries to God in her weakness, shouts of victory and thankfulness for his favour, and declarations of Biblical truths, they get the balance of production, instrumentation and vocals just right.

This comes to the fore in the song Trust in You, which was penned about Lauren's struggle with the debilitating illness cytomegalovirus, which left her housebound for two years. Now fully healed of this, the song and indeed, the entire album is a testament to the power of God in her life.

Lauren Daigle is the fresh-voice the worship genre needed, and once to press play you stop listening for days. If you buy one worship album this year, How Can It Be is the one for you.

How Can It Be (Deluxe Edition) is available at Koorong and is on iTunes for $16.99.